Getting Started on Your Trail to Eagle Scout
You are now a Life Scout, one step away from Scouting's highest award - Eagle Scout!
You are ready to climb the last trail to join the "select few" who have reached the top of Scouting's advancement ladder. This Honor requires demonstrating leadership and service.
To achieve this high honor, you are expected to plan, develop and give leadership to others, in carrying out a service project which is helpful to one of the following:
Your religious institution
Your school
Your community
Please Note: Your project cannot be of direct benefit to any Boy Scout organization, cannot be performed for a commercial business or an individual, and cannot be a fund-raiser. Funds raised can only be used for materials and supplies needed to carry out the project.
District Representative
After you have reviewed the Service Project Workbook and selected a project you should contact your District Advancement Chairperson.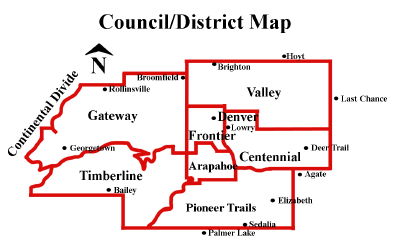 Arapahoe District
Mark Wright
303.470.1646

Centennial District
Gary Loustalet
720.427.3059

Richard Hall
720.324.4235

Frontier District
Greg Holt
303.369.9934

Gateway District
Tom Gould
303.526.1020

Rick Baldessari
303.423.1887

Mark Schultz
303.883.2435

Tom Wyscaver
303.278.0059

Ken Beck
303.420.0875

Pioneer Trails
Dick Reynolds
303.918.1578

Timberline District
Charles Mocilac
303.763.6976
Valley District
Chuck Sherman
303.884.3417

Venturing Committee
Rick Baldessari
303.423.1887
If your district chairperson does not have contact information, please call the Council Service Center at 303.455.5522.