Denver Scout Shop
Welcome! We are your source for Scouting uniforms and supplies, as well as camping, craft and gift items. We look forward to serving you. Uniforms, camping equipment, craft supplies, patches, awards and recognition items and much more can be purchased by parents, leaders and units. Visit our full-service shop at the Hamilton Scout Headquarters.
10455 West 6th Avenue, Suite 125
Lakewood, CO 80215
Phone: 303.477.4830
Denver Scout Shop Facebook page
Hours:
Monday: 9AM–6PM
Tuesday: 9AM–8PM
Wednesday: 9AM–6PM
Thursday: 9AM–6PM
Friday: 9AM–6PM
Saturday: 9AM-3PM
Sunday: Closed
Denver Scout Shop News
We have a lot of great promotions going on at the Scout Shop this month. Lots of great ways to save money as we head into the holiday season. Take a look!
Camping Clearance
In an effort to move old stock and prepare for new and exciting items, we have marked down a large amount of our camping, craft, and non-uniform apparel. All items are first-come-first-serve and these products will going fast. Come on down to the scout shop and see what we have for you!
Scout Sunday
Scout Sunday is coming up quite quickly! We have plenty of patches, neckerchiefs, and pins available for the Scout and Scouters who participate. Need a way to say thank you for the support through the years? Give your chartered organization a neckerchief or pin!
More information on Scout Sunday, Sabbath, and Jumuah: Bryan on Scouting
Uniform Sewing
We are pleased to announce that we offer sewing services for uniforms! For $3.00 a patch (regardless of size) we can get your uniform looking just right for that upcoming board of review or court of honor. Feel free to contact us if you have any questions regarding our service.
Now Hiring Part-Time Associates!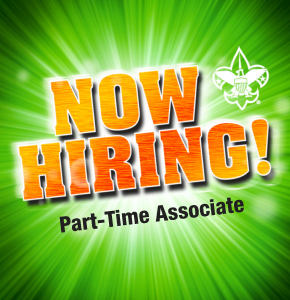 Looking for a part-time job? Love the Scouting Program? Come work for us at the Scout Shop! Looking for people excited to learn and passionate about the program. Stop on by and fill out an application!
Shop Online
National Online Store: www.scoutstuff.org