Daniel Dale Walks the Trail of the Eagle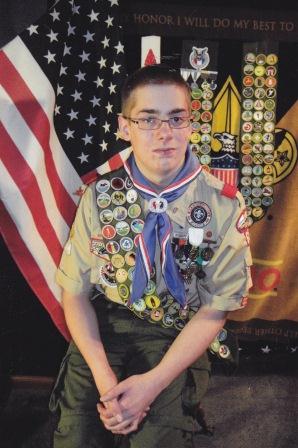 Daniel Dale of Troop 654 in the Ponderosa LDS Ward, Parker, CO, has achieved something that has never been achieved in Scouting. He was born with Cerebral Palsy which affects his legs for the most part. He is now returning to walking on crutches and working to again be an independent walker.
He has earned every award, merit badge and rank in Scouting. That includes 129 Merit Badges and 20 Eagle Rank Palm Awards. In 2010, the 100th Anniversary of Scouting, the number of active Merit Badges went from 121 to 129. Daniel was in the perfect position to earn those extra 8 Badges and did so.

But his Scouting accomplishments include all the other awards, too. He earned the Twentier Award, Arrow of Light, and Faith in God Medal as a Cub Scout. He earned the On My Honor Award, World Conservation Award and Gold American Heritage Award, along with all the Merit Badges and Eagle Rank Palms as a Boy Scout. In Varsity Scouting, he earned Varsity V with all devices and the Denali Award (highest Varsity award).
In Venturing he earned the following:
All four Bronze Awards: Sports; Outdoors; Arts and Hobbies; Religious and Community
Quest Award TRUST Award Gold Award Ranger Award
Venturing Outstanding Shooting Achievement Award
Venturing Silver Award (highest Venturing award)
He was inducted into Order of the Arrow
Received the DAC Outstanding Eagle Project Award in 2006
Douglas County Scout of the Year Award 2009
He was presented with a one-of-a-kind award, coined for him, the "Soaring Like An Eagle Award, 2011" for these accomplishments at the 2011 Denver Area Council Eagle Scout Banquet. At that event, Council Commissioner Jim Blair said, "We've never seen this before; we'll never see it again!" Daniel has held numerous leadership callings in his Church Quorums. Currently, he's Second Assistant in the Priest Quorum, having previously served as Secretary and Crew Historian. He has completed 3 years of Seminary, is a new Senior at Legend High School, and is in the Select Mixed Choir. His plans include attending BYU-Idaho, serving a fulltime mission and going to Law School at BYU.