Upcoming Activities and Events
Remember: Roundtable and OA Chapter Meetings Are The 1st Thursday Of Each Month
---
2018 Gateway and Frontier District Klondike Games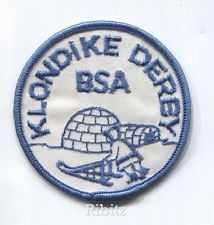 "The Snow Must Go On"
February 9th-11th, 2018
Reverends Ridge Campground, Golden Gate Canyon State Park
313 Reverends Ridge Rd, Golden, CO, 80403
This is open to all Boy Scouts, Venturers, and Webelos and Arrow of Light Scouts.
Download the Leader's Guide
Event Contacts:
John Beattie, Gateway Program/Activities Chairperson: 303.422.7079, 720.448.6313
Dick Williams, Kondike Chairperson: 303.278.2323
---
2018 Gateway District Pinewood Derby
April 7th, 2018
Faith Bible Chapel - West Gym
6250 Wright St, Arvada, CO, 80004
Car Check In - 11:00 AM to Noon
Racing/Judging - 12:00 PM to 3:00 PM
Top 5 cars from each pack in Racing and Best of Show divisions
10 cars maximum per pack; each car may enter in only one division
Registration will begin January 15th, 2018
Event Contact:
Rodney Shull, 303.929.1561
---
2018 Gateway District Recognition Brunch
Location and Time TBA
A Celebration of 37 years of Scouting Support and Service
Thanks to all that attended in 2017 and congratulations to the following Scouters for their dedication and service!
District Award of Merit
Dave Carlson
Lisette Clemons
Trey Holst
Bob Nelson
Victor Reusch
Rookie Cubmaster of the Year
Pack 51 - Tommy Drouillard
Key Unit Scouters
Pack 600 - Anne Smith (Trustworthy)
Crew 130 - Steve Moody (Friendly)
Unit Leader Award of Merit
Troop 667 - Robert Zerr
Troop 613 - Neil Secosky
Gateway Memorial Award
Jeanette Lloyd
Bob Shaw
Trey Holst
Pickaxe Award
---
Apr. 28 – Denver Area Council Scout Show
---
42nd Annual Gateway District Webelos Weekend
June 1 - June 3, 2018 at Camp Tahosa
Come Celebrate 42 years of Webelos Weekend with the Gateway District!
Webelos Scouts, Parents, and Leaders! You don't want to miss out. Webelos Scouts will participate in eight different activities and learn about the Boy Scout Program run by a Boy Scout led staff. Adults and Leaders spend the day learning new skills and making new friends while attending Webelos Outdoor Leader Training. Webelos Weekend is open to all First and Second year Webelos Scouts, Webelos Leaders, and Webelos Parents. Webelos Weekend will be held at Camp Tahosa near Ward, Colorado. Registration will be open in Spring 2018! Sign up early, we will fill up fast.
---
2018 Gateway District Twilight Camp
This year's Theme is "Bug Hunters!"
Tentative Date and Location
Monday - Thursday, June 11-14, 2018
3:00 pm - 8:00 pm
Odom Farm
11440 W. 38th Avenue
Wheat Ridge, CO 80033

Please note: This is a private residence.
Do not visit site outside of scheduled Day Camp dates and times.
Cub Scout Day Camp provides safe fun and adventure in the outdoors for Cub Scouts!
This is a valuable activity for many reasons:
Promotes fun and adventure with a purpose; Day Camp is a huge reason why Cub Scouts join, and why they remain Cub Scouts.
Helps the Cub Scouts succeed, and provides significant rank advancement opportunities.
Offers character development, citizenship training, and personal fitness.
Meets individual boy's needs and interests by offering a fun, meaningful, and educational Scouting program.
Helps to recruit new boys into the den and pack during the summer.
Provides a method of recruiting, training and inspiring present and future Cub Scout adult leadership.
Provides the opportunity for units to earn the National Summertime Pack Award, and to work toward qualifying for the Journey to Excellence Award.
Registration will be available Spring of 2018!
---
2018 Gateway Camporee
October 12th-14th, 2018 at Jackson Lake State Park
---
Last Updated December 6, 2017 - Jimmy Dickson