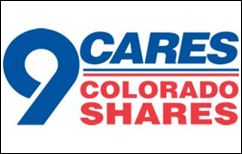 In 2013, we have partnered with 9News to "Scout for Food" to donate to the 9Cares Colorado Shares drive which provides food to over 1030 food banks throughout the Metro area. Bags and door hangers will be provided for Scouts to deliver to their neighborhoods beginning Saturday, November 9th with a request to fill with food and pick up on or by Saturday, November 16th, and delivered to the 9Cares drop off sites. Units may pick up Scouting for Food bags and door hangers at the October roundtable meetings, University of Scouting, November roundtable meetings, or at the Hamilton Scout Headquarters.
Units will need to total the amount of food items collected for their Scouting for Food roster and then deliver to one of the 9Cares Colorado Shares collection sites on Saturday, November 16, 2013 from 7 a.m. to 4 p.m.
All Scouting units are encouraged to participate in this Council-wide community service initiative. Scouting for Food participation will inspire our young people and teach them the importance of community service. Service is a key ingredient in Citizenship! It will also reinforce Scouting's positive contribution to the general community.
Each unit should select a Scouting for Food Coordinator and begin planning. You may register for this event online, just click on the Register button below.
9Cares CO Shares Drop Off Locations/Fact Sheet
Unit Roster due no later than December 1, 2013.
When your unit has completed any service project, please register the project with Good Turn for America to ensure your service offers are recorded for the Journey to Excellence program. Here are some helpful hints for this process:
Your Unit ID is the same number used by your unit when recording Internet Advancement. If you do not know this number, please contact the Council Service Center at 303.455.5522.
The Denver Area Council is Council number 061.
Your local unit number must be four (4) digits. If your pack/troop number is only two (2) or three (3) digits, front fill with zeroes i.e. Pack 123 becomes Pack 0123.