Frequently Asked Questions (FAQ)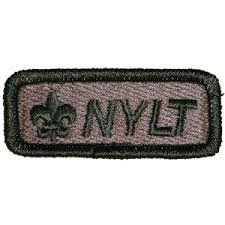 Here is a list of the questions and answers on this page:
Are there Campership opportunities for NYLT particpants?
The Denver Area Council believes that no camper should be turned away because of finances. Denver's Campership Fund, made possible through the generosity of Scouting friends and supporters, is available to any family with financial need. Please refer to the information on this page for details and Campership applications.
I understand the NYLT program is open to Boy Scouts and Venturers. Is the course co-ed?
In 2011, the Denver Area Council NYLT program was updated to include male and female Venturing participants in addition to Boy Scouts. Why was this change made? Because the mission and vision of the BSA is to prepare every eligible youth in America to become the best leader he or she can be. The color of a green or a tan shirt is irrelevant—all of the youth in each of the programs deserves as much age appropriate, quality leadership training as possible.
Does the participant need to wear the Scout uniform all the time?
Participants will wear the Field Uniform for evening meal and events, and the Activity Uniform during the day.
Field Uniform
Activity Uniform

Boy Scouts: Beige Scout Shirt with all the proper insignia
Venture Scouts: Green Venture Shirt with all the proper insignia
Boots
Official BSA Shorts/Pants(Scout or Venture)
Official BSA Socks (Scout or Venture - Several Pairs!)
Watch
Water Bottle
Song Book (receives at camp)
Scout Belt (web or leather with Scout Buckle)
NYLT (receives at camp)
Name Button (receives at camp)

Patrol Tee-shirt (Scout receives two at camp)
Boots
Scout Shorts/Pants
Scout Socks (Several Pairs!)
Watch
Water Bottle
Song Book (receives at camp)
Scout Belt (web or leather with Scout Buckle)
NYLT (receives at camp)
Name Button (receives at camp)
Knowing that cost can be a factor for many Scouting families, consider these options for getting official Scout pants. The Denver Area Council office often has "experienced" pants to sell for minimal cost, or think about borrowing these items from another Scout (hopefully about the same size as your Scout) in your troop.
The mailing address for Tahosa High Adventure Base is:
NYLT Leadership Course
c/o Tahosa High Adventure Base
173 County Road #96
Ward, CO 80481
My Scout lives outside the Denver Area Council, can he still attend NYLT?
YES! Please contact the Denver Area Council to get more information. Applications are available on our Library page, or by contacting the Denver Area Council.
When do I take my Scout to NYLT?
Check-in begins promptly at 11:30 am on Sunday. We recommend arriving earlier to be ready to go, no later than 11:00 am. Adults should wait at camp until check-in is complete, to address any last minute issues. Scouts should arrive wearing their sturdy hiking boots and Field Uniform, have all medications in original containers ready for the Medic, and have rain gear ready to protect themselves and their gear. They will also need a compass ready to use since they will use their orienteering skills to find their campsite. In addition, the NYLT Staff will conduct gear and uniform inspections to insure Scouts are prepared for the week at NYLT.
What if I cannot get my Scout to NYLT by check-in on Sunday?
We will try to make accommodations for Scouts arriving late, however, we cannot allow Scouts to arrive on course any later than Sunday evening. Scouts who come late will miss very important classes and team building exercises introduced Sunday afternoon. If you need to come late, you must contact the Scoutmaster and Course Director.
When do I pick my Scout up from NYLT?
NYLT is a week long experience and ends Saturday morning. Parents, siblings, grandparents, friends, etc. are all welcome to come to Tahosa High Adventure Base for our graduation ceremony. Please arrive at Tahosa between 10:00 am and 10:30 am on Saturday. Final flag ceremony and graduation will commence once the Quartermaster has approved each patrol's clean-up of equipment. For those with mobility needs, please notify the Scoutmaster so that arrangements can be made for transport to the ceremony. Once the graduation ceremony is complete the Scout is free to go. Remember, your Scout will come home with new leadership skills and the ability to do all the dishes for the family!
A signed medical form is required by law! A Scout cannot stay at the camp without the medical form. NYLT will not allow a Scout on course unless a doctor signed medical form has been submitted. A unique medical form is used for NYLT. In addition to the requirements of BSA, the state of Colorado views NYLT as a special long-term event and has additional medical form requirements. Use only the NYLT medical form as provided each year. A BSA camp or Jamboree health form will not be accepted. Please download the new all-in-one 2017 NYLT Health Packet (consisting of BSA Health Form Parts A, B, and C, the Parent Authorization and Immunization Form, and the OTC Med Form).
What type of footwear should the Scouts have at NYLT?
Over the ankle sturdy hiking boots! Tahosa High Adventure Base is a place where you must have good footwear in order to survive the week. Boots are required for the health and safety of the participants and staff. Sandals and tennis shoes are not acceptable footwear. The Scouts are encouraged to bring shower shoes for the showers, however, during any other time of the week Boots are required! Please be advised, "sturdy" athletic shoes or any other footwear is not acceptable. This policy is for the health and safety of everyone. The staff has and will continue to do gear checks at check-in when the participants arrive at NYLT to help avoid any problems. Get the equipment list here.
Yes, the participants will get two showers during the week. The shower time is placed in the schedule and there is no time for the patrols to take showers other than the assigned times. NYLT shares Tahosa High Adventure Base with other programs during the week, and we all must share the showers. The showers are indoors with plenty of fresh hot water. Shower shoes are suggested. Patrol members will have 5-7 minutes to shower to save water and allow adequate time for cleaning. There are separate facilities for male and female participants.
There is no free time scheduled. However, if a patrol works together as a team and stays focused on the tasks at hand, such as dishes, cooking, building camp gadgets, etc. then the patrol will earn free time by accomplishing the scheduled tasks early.
Can the participants earn Merit Badges or other advancement?
No! NYLT suggests Scouts bring the Pioneering, Cooking, First Aid and Orienteering skills to camp to help their patrol be more successful. Remember, NYLT is not summer camp. The objective of NYLT is to train leaders, not earn merit badges and run advancements. (However, the skills the Scouts will learn at NYLT will help them advance back in their home units.)
There is no need for the participants to bring any food. Scouts should not bring any food with them to NYLT! All the meals are provided for them. If Scouts are hungry in between meals, the Quartermaster will have snacks (fruit, crackers, other healthy snack items).
Please note, if the Scout has any food allergies/restrictions, it is vital the Scout and the parents inform NYLT before the course starts!
Part of NYLT includes the preparation of the meals. Although all the food is provided to the Scouts, it is not cooked. NYLT provides all the cooking supplies need to prepare the meals. The NYLT Staff working with each patrol oversees food preparation, however, participants prepare all meals.
I heard there are bears at Tahosa High Adventure Base.
Bears and other wildlife are often found in camp during NYLT. NYLT prepares for this as we teach the Scouts from the minute they arrive at Tahosa High Adventure Base how to live in bear country. NYLT provides bear bags for each patrol to store smellables. NYLT works hard to provide a safe camp for everyone.
Most all gear is a smellable. Toothpaste, soap, deodorant, shaving cream, food (although no one should have any personal food), first aid kits, cameras, film, batteries, clean clothing just washed with a fabric softener, etc. NYLT Staff goes over with each patrol what smellables need to be removed from their tents and placed in the bear bag. If you would like more information on what are smellables and what are not you can contact someone from NYLT and they will explain it. But, for all practical purposes, the only thing Scouts should have in their tents are the following: clothing (that does not have food on it), backpacks (with no food in it), water bottle, sleeping gear, eye glasses/contacts, and a flashlight. Everything else should be in the bear bags. And remember, participants don't have any free time to speak of, and will not need to bring any more than the essentials.
Does every Scout need to bring a tent?
Yes! NYLT makes it a point to insure no participant patrol has more than one member from any one unit. This is done to force the participants to form a team with people they do not know, a very important skill for a leader. As a result, they do not know any of their patrol members prior to arriving at camp. They will need their own 2-man tent to sleep in and store their gear.
Each week an adult staff member serves as a Medic. When the Scouts check into camp they will also check-in their medications with the Medic. Medications must arrive in their original containers with clear instructions on dosage. All medications will be held by the medic during the week except for bee sting kits and asthma inhalers. A second backup epipen and inhaler is required to be left with the Medic. It will be the Scout's responsibility to get his medications when needed. NYLT does this for Health and Safety reasons. If you have more questions about this, please contact your NYLT Scoutmaster. At the end of the week when the Scout is picked up from camp, the parent(s) can pick-up the medications from the Medic.
Should the Participants keep their NYLT hats?
Yes! If the participant wants to come on staff they will wear the same hat as a staff member, not to mention they are good quality hats that would prove useful for any Scouting activity or other functions.
How do I become a member of the NYLT Youth Staff?
At the end of the week, the NYLT Staff assigned to each patrol will evaluate each patrol member. They consider how the Scout acted as a Patrol Leader, as a Patrol member and how he presented himself throughout the week. Based on observations and evaluations of the Scout by the NYLT Staff, they will recommend the Scout to be or not to be on Staff. There has been such an interest in youth staff that NYLT has had to turn down many qualified applicants because we did not have staff positions for all of them. The best way to avoid being turned down is to get your application in as soon as possible. Many veteran staffers have been turned down because their application came in too late.
If a Scout is not recommended and/or does not receive an invitation, they can write to the Denver Area Council or the NYLT coordinator(s) asking to be on staff. The letter should contain the Scout's name, unit, and date they attended NYLT, along with an explanation of why they believe they would make an effective staff member for NYLT.
If you are an adult leader, we need you to help with NYLT, too! We are always looking for adult leaders. Please contact NYLT and tell us who you are and why you want to be an Adult Leader for NYLT. Although NYLT exists to teach youth how to be leaders, the Adult Leadership at NYLT is an opportunity to learn. Over the past several years, many of the youth staffers who have turned 18 have returned to staff as adults.
The staff spends at least 6 months preparing for camp. They plan classes and activities based on the National Youth Leadership Training Syllabus. They arrive at Tahosa High Adventure Base one to two days before the participants to set up the camp. They spend the week teaching, leading, and preparing the participants to be leaders in Scouting and in their communities. The youth staff does most of the work. They are the ones planning and teaching the leadership skills to the participants. The adult staff is there mostly for health and safety, but also to mentor the youth staff. The youth staff consists of a Senior Patrol Leader, Assistant Senior Patrol Leader, Instructors, three Quartermasters, and one Troop Guide for each participant patrol. The adult staff consists of the Scoutmaster, Assistant Scoutmaster, Medic, and Quartermaster for each participant patrol. Each position has its own unique responsibilities but we need every single one to run NYLT successfully.