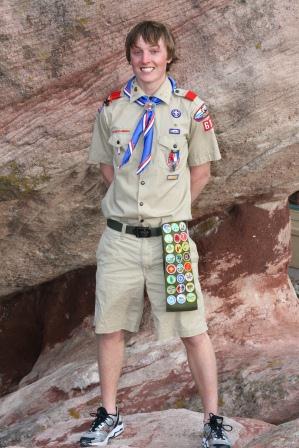 Scout Receives $25,000 Scholarship from Boy Scouts of America to Pursue His Dream in Finding a Cure for MS
Brian Adams is a senior at Chatfield Senior High in Littleton, and will be graduating May 20th, 2011 as a class valedictorian. He enjoys all academic subjects, but his passion is the study of biology. It is his dream to be a part of the cure for Multiple Sclerosis, a disease of the central nervous system that his mother was diagnosed with over 33 years ago. Brian is already working towards this goal, as he is helping with MS research with a Pharmaceutics professor this summer at the Anschutz Medical campus. To assist Brian in the pursuit of this dream he applied for a National Eagle Scout Association (NESA) Eagle Scout scholarship and was among over 4,500 Eagle Scouts who did so nationally in 2011. He has received a $25,000 academic scholarship from the Boy Scouts of America (BSA) National Eagle Scout Association made possible through the United Health Foundation and will be recognized at the National BSA Annual Meeting this coming May. He will receive $25,000 across eight semesters of his undergraduate schooling and plans to use the funds from the scholarship for his expenses at either Duke University or St. Olaf College.
Brian has been actively involved in Scouting through Cub Scout Pack 247 since age 7, and then transitioned into Boy Scout Troop 686 at age 11, both in Littleton. He was heavily involved in his troop, and held leadership positions continuously and considers Scouting as his most important activity in terms of preparing him as a leader. He attained the rank of Eagle Scout in March of 2009. Of note, Brian is a third generation Eagle, with three uncles on his mother's side and his maternal grandfather having also attained this award. Brian is deeply honored that he was chosen for this amazing opportunity.