Four Boy Scouts Saved a Woman's Life on a Backpack Trip
Awarded the National Heroism Lifesaving Award from Boy Scouts of America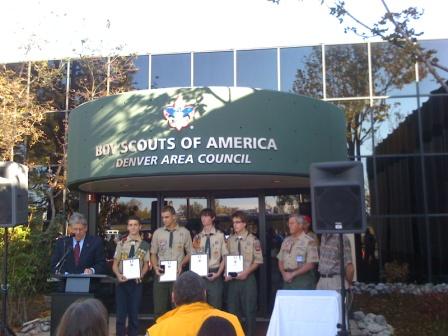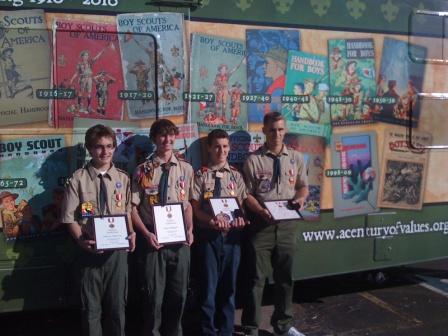 Boy Scouts Lance Hoggatt, Justin Hart, Jonathan Hart and Andrew Cameron of Troop 342 were awarded the National Heroism Lifesaving Award from the Boy Scouts of America and the Denver Area Council, upon recommendation from the National Court of Honor on Tuesday, October 20, 2009 for their heroic efforts in saving a young women's life during an 18-mile wilderness backpacking trip planned to earn their backpacking merit badge. They were recognized at the Century of Values tour as the Boy Scouts of America officially kicks off their 100th Anniversary Celebration marking 100 Years of Scouting in 2010. The Heroism Award is given to individuals that have demonstrated heroism and skill in averting serious injury or saving or attempting to save life at minimum risk to self.
On July 25, 2008, Amy Richards, a senior at CSU majoring in political science and sociology, along with her father Randy, and brother David, left for a weekend backpack trip in the Rawah Wilderness which is an American Indian word for "wild place." Carrying a backpack with several days of clothing and food up the Camp Lake trail she began struggling to continue almost 6 miles from her car. "I fell down once, and started getting more tired than I had ever been," said Richards. "I could take about five steps at a time. I could barely walk." Believing that she was simply becoming fatigued, they attempted to press on to reach the lake. Her ability to continue deteriorated rapidly and they struggled to reach a point near the lake where they could spend the night with a reliable water source. She barely slept and felt even worse in the morning when they got up to keep going to Camp Lake. "I fell in a bog. I got a little hypothermic. I couldn't even stand up," said Richards.
Troop 342 was spotted earlier on the trail Friday afternoon and had arrived at the lake on Saturday morning to fish. They volunteered whatever assistance they could provide and when it became clear that the situation was more serious than Richard's family could handle on their own they immediately reacted. The Scouts dropped their fishing poles and other gear and set about using their first aid skills building a litter from trees, plastic tarps, and duct tape and carried her 1.5 miles down the trail to a lower elevation. When it became clear that she couldn't reasonably be carried further, some of the Scouts went ahead and identified a suitable site to camp for the night. The Scouts offered to care for Richards late Saturday afternoon while her father and brother hiked down the trail to get help. Richards had begun vomiting and was not even able to sit up. The Scouts tried to keep Richards hydrated by giving her small amounts of liquid throughout the night.
Troop 342 provided outstanding care for Richards until the Larimer County Emergency Services Sheriff's Posse was dispatched with a horse to carry her down the trail later the following Sunday morning. When they reached the campsite it was clear that she needed immediate attention and a helicopter was called to evacuate her. Even at the current altitude that the Scouts had carried her down to, the helicopter had trouble getting off the ground. Upon reaching the hospital it was determined that Richards was in acute renal failure. Following a 17-day stay at Poudre Valley Hospital she was able to completely recover. Richards feels that she owes her life to the assistance provided by all the parties involved, especially including the quick and complete attention she received from the Scouts in Troop 342.
About the Century of Values Tour
The Century of Values Tour began on February 8, 2009 and will run through February 8, 2010. Fourteen road teams of dedicated Scouters will be traveling throughout the United States of America. Their mission is to visit every Boy Scout Council in the United States. The teams will be celebrating Scouting's 100th anniversary by thanking local Councils for their professional service to the youth of their communities. Every Council will be presented with a special framed Centennial portrait (24" x 36"). This special mural is the creation of Eagle Scout and professional Illustrator Bill Morrison. A Michigan native, Morrison honed his artistic talents as part of the team that created "The Simpsons." Morrison spent three years researching Scouting's history, people, and programs to develop the special mural. The traveling RV will make its final appearance at the 2010 National Scout Jamboree, and will then find its final parking spot at the National Smithsonian Museum in Washington D.C. For more information visit http://acenturyofvalues.org.