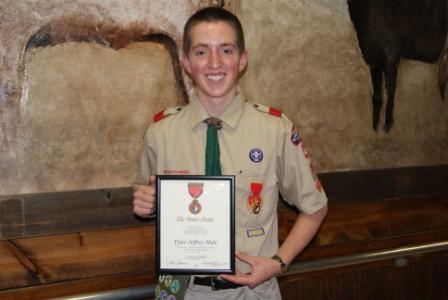 Tyler Hale Receives Honor Medal for Act of Heroism
Tyler Hale, a Life Scout from Troop 47, was on vacation with his family and several other families at a beach-side rental house in Corolla, NC this past summer. Around noon one day, he was swimming and playing along the shore when he became aware that two young girls, ages 9 and 11, had wandered too far into the ocean and were being tossed around, knocked down by the waves and pulled sideways and eventually away from the shore by a rip current. All the parents were a distance down the beach and were unaware of the developing situation. The two girls began yelling to Tyler for help and by the time he reached them, they had both been pushed under the water several times and were coughing and panicking. Both girls were clinging to Tyler at this point, as the water was too deep for them to stand; the water was above Tyler's shoulders and the waves were crashing over his head. The girls were trying to climb up on Tyler's head, so he dropped down under the water so they would release their grip and allow him to regain some control over them. By this time, the beach lifeguards noticed Tyler and the two girls and hurried a hundred yards down the beach with flotation devices to assist Tyler with getting the girls to the shore. Both girls were cold and shaken, but did not require CPR or further assistance. The girls credit Tyler with having saved their lives. Tyler said his Lifesaving training in Scouting prepared him for this situation.
The Boy Scouts of America and the Denver Area Council, upon recommendation from the National Court of Honor, is proud to grant the Honor Medal to Tyler Hale. The Honor Medal is given to individuals who have demonstrated unusual heroism and skill or resourcefulness in saving or attempting to save life at considerable risk to self. Only 2,233 of these awards have been given since 1923. Congratulations Tyler!