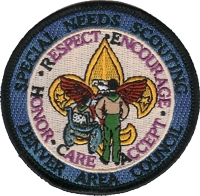 Since its founding in 1910, the Boy Scouts of America has had fully participating members with physical, mental, and emotional disabilities. James E. West, the first Chief Scout Executive, was himself disabled. Although most of the BSA's efforts have been directed at keeping such boys in the mainstream of Scouting, it has also recognized the special needs of those with severe disabilities.
The Boy Scout Handbook has had braille editions for many years; merit badge pamphlets have been recorded on cassette tapes for blind Scouts; and closed-caption training videos have been produced. In 1965, registration of over-age Scouts with mental retardation became possible—a privilege now extended to many people with disabilities.
Today, approximately 100,000 Cub Scouts, Boy Scouts, and Venturers with disabilities are registered with the Boy Scouts of America in more than 4,000 units chartered to community organizations.
That is where your Denver Area Council's Special Needs Scouting comes in!