What are the benefits of selling Camp Cards???
Sending Scouts to camp!
Higher Retention of Scouts!
Funding earned by Scouts!
Scouts have Ownership of Opportunities!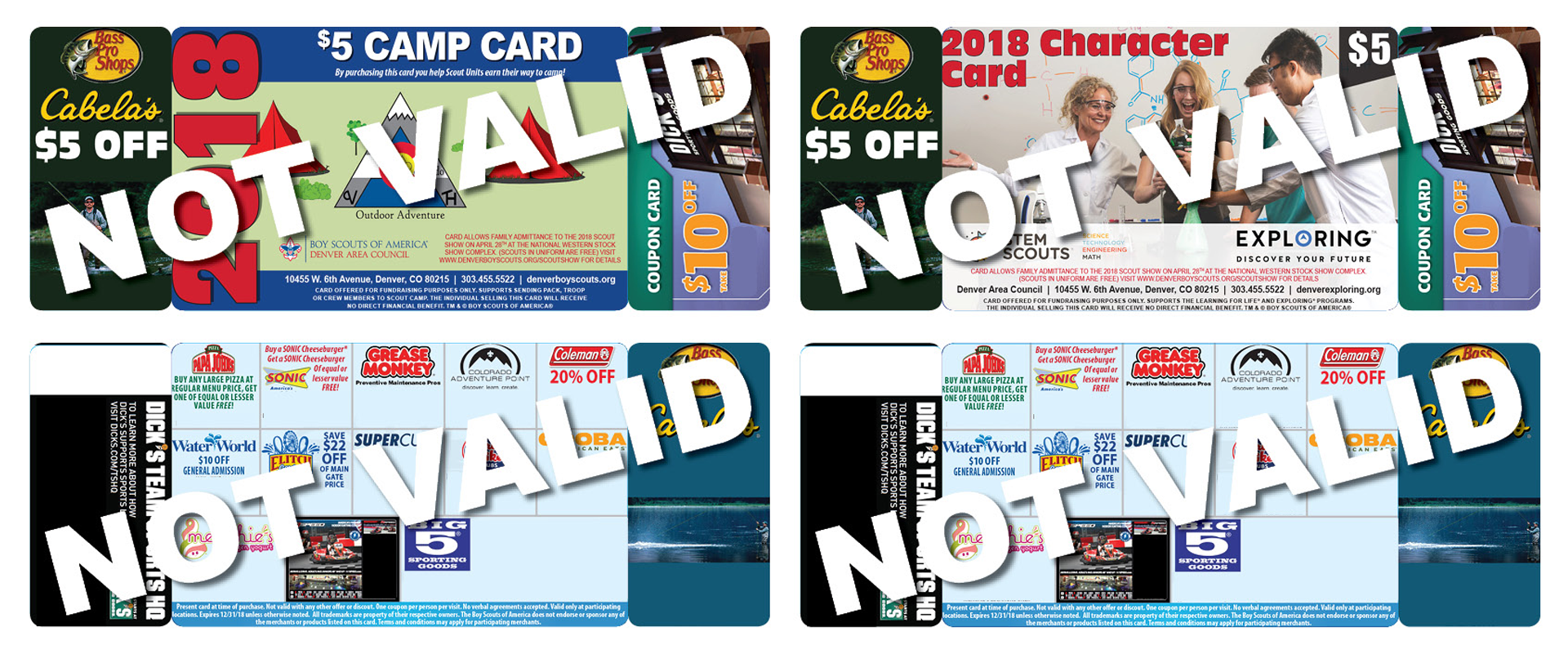 Click on Vendor to view location map.
2018 Camp Card Timeline
| | |
| --- | --- |
| January 31 | Order Camp Cards online or fax for to Council Office |
| February 13 | Camp Card Kickoff North (Earn $.50 Bonus Commission!) |
| February 20 | Camp Card Kickoff South (Earn $.50 Bonus Commission!) |
| March 1 | Camp Card Sale Begins |
| May 1 | Sale Ends. Units to begin turning money and unsold Camp Cards to Council |
| May 18 | Last day for units to turn in money and unsold Camp Cards |
| May 31 | Announcement of Top Sellers |
How the Camp Card Sale Works
The Camp Card is designed to help units fund their way to 2018 camp programs.
This is a risk-free, product sales project where all Scouts can earn their way to a Denver Area Council Camp, 2018 Philmont Trek, other activities or simply support unit programs or supply needs.
Each Camp Card will sell for only $5.00 to the general public and will have multiple food, entertainment, and service discounts for the consumer to use throughout the year.
The participating unit will keep up to 50% commission from the sale of each Camp Card.
Commissions from the sales are encouraged to be applied toward directly sending youth to summer camp programs, however they may be used as the unit committee sees fit.
The Value of Selling Camp Cards
Participating in the Camp Card sale allows each Scout to directly fund their way to various camp programs!
| Program | Cost* | Cards Sold to Cover Cost* |
| --- | --- | --- |
| DAC Cub Scout Day/Twilight Camp | $75 | 30 Cards sold per Scout |
| DAC Magness Adventure Camp | $165 | 60 Cards sold per Scout |
| Dobbins, Dietler, Eagle point | $335 | 134 Cards sold per Scout |
| Tahosa Alpine Adventure Trek | $385 | 154 Cards sold per Scout |
| National High Adventure Bases | $800 | 320 Cards sold per Scout |
*Program costs and sales per youth are not necessarily actual numbers; they are close approximations.
Prizes
Please make sure to fill out all the information on the prize form. **Signature by Unit Leader or Camp Card Chair is required.**
Scouts will win ONE prize only. Please choose between one item OR one camp.
To Order Camp Card Display Boards
Call Vango Graphics Inc. at 303.722.6109 or email. Ask for Pam.
Each board is $24
When placing your order, please let Vango Graphics know if you want to order the Camp Card Board or the Character Card Board (STEM, Exploring).
Display Boards generally take two business days to be processed. Boards must be picked up at Vango Graphics location.
Camp Card Forms and Resources
Order Camp Cards
Camp Card Kickoff Event Links:
Please Note: Camp Cards are ONLY available before March 1st if you attend a kickoff. If you do not attend a kickoff, Camp Cards are available for pick up on or after March 1st at the Hamilton Scout Headquarters or at Roundtable.