Denver Scout Shop
Welcome! We are your source for Scouting uniforms and supplies, as well as camping, craft and gift items. We look forward to serving you. Uniforms, camping equipment, craft supplies, patches, awards and recognition items and much more can be purchased by parents, leaders and units. Visit our full-service shop at the Hamilton Scout Headquarters.
10455 West 6th Avenue, Suite 125
Lakewood, CO 80215
Phone: 303.477.4830
Denver Scout Shop Facebook page
Denver Scout Shop Hours:
Monday: 9AM–6PM
Tuesday: 9AM–8PM
Wednesday: 9AM–6PM
Thursday: 9AM–6PM
Friday: 9AM–6PM
Saturday: 9AM-3PM
Sunday: Closed
Denver Scout Shop News
We have a lot of great promotions going on at the Scout Shop this month. Lots of great ways to save money as we head into the holiday season. Take a look!
Extended Hours for Fall
From September 1st to October 13th, we will remain open until 5 pm on Saturdays to help all of the new families joining our program! We will return to regular Saturday hours after the 13th of October.
Uniform Sewing
We are pleased to announce that we offer sewing services for uniforms! For $3.00 a patch (regardless of size) we can get your uniform looking just right for that upcoming board of review or court of honor. Feel free to contact us if you have any questions regarding our service. Typical turnaround is 2 business days.
Uniform Promotion

Get ready for the Cub Scouts by getting completely outfitted with this great deal! Save 25% off of a Cub Scout uniform shirt when you purchase a Cub Scout uniform bottom! This includes the new performance shorts and the roll-up pants for girls that we have started carrying. We are more than happy to walk you through the process of outfitting your new scout with everything they might need.
New Cub Scout Literature
Just in time for the new recruits, we have the newest editions of the Cub Scout Handbooks and Den Leader Guides! Now you won't have to hold onto that pesky addendum for the updated requirements.
New Items for Everybody
Every week, we are getting new items in many of our different departments. With new sleeping bags, hammocks, headlamps, and more, our camping section is stocked with just about everything you will need to go camping this fall. We have an assortment of accessories and bags that may interest new girls who are joining our program as well as "class-b" t-shirts for everyone in the family! Come check it out!
Now Hiring Part-Time Associates!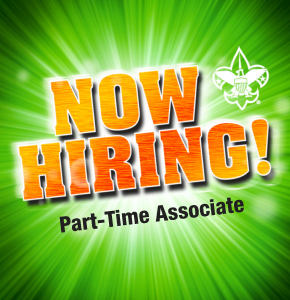 Looking for a part-time job? Love the Scouting Program? Come work for us at the Scout Shop! Looking for people excited to learn and passionate about the program. Stop on by and fill out an application!
Shop Online
National Online Store: www.scoutshop.org