Memorials/Tributes/Recognition
A memorial donation to the Denver Area Council, Boy Scouts of America, is a loving way to celebrate the life of a Scoutmaster or other volunteer leader, Eagle Scout, BSA Alumnus, Charter Organization Representative, parent, or Scout supporter. Your gift can also be in recognition of a special occasion including birthdays, rank advancements, anniversaries, job promotions, or to honor the memory of a family member or friend.
Our Memorial Fund recognizes the contributor and routes a dignified notification to the honoree or family. All proceeds support Scouting programs for the more than 55,000 youth served in the Denver Area Council, Boy Scouts of America.
For more information on the Scout Memorial Fund, please contact Michael Fifhause at 720.266.2147.
2016 Memorial Gifts
A gift in memory of a loved one will provide a new beginning for a young person in the Scouting program.
In Loving Memory of Jerry D. Armstrong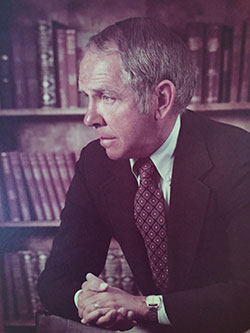 Jerry Armstrong died on January 28, 2016 in Dallas, Texas at the age of 85. He was born in Enid, Oklahoma to Harry and Elsie Armstrong and raised in Russell, Kansas. He graduated from the University of Kansas in 1953 with a B.S. in Geological Engineering, where he was a member of Kappa Sigma fraternity. He served for two years in the Army Corps of Engineers with fourteen months in Korea.
Jerry married Bonnie Marshall of San Antonio, Texas in 1955. He began his career in Midland, Texas with Cities Services Oil Company as an exploration geologist before partnering with Ray Brownlie and Jim Wallace in 1960 and relocating to Abilene, Texas. While in Abilene, Jerry served as president of Abilene Country Club.
In 1970, Brownlie, Wallace, Armstrong, & Bander (BWAB) relocated to Denver, Colorado to pursue oil and gas exploration opportunities in the Rocky Mountain region. BWAB was successful throughout the Rockies (Utah, Wyoming, Colorado, Montana and North Dakota) and gained a well-deserved reputation for not only consistent success, but for straight talk and fair dealings. In 2004, Jerry was inducted into the inaugural class of the Rocky Mountain Oil & Gas Hall of Fame along with his partners.
While in Denver, Jerry served on the board of directors for Charter Bank & Trust and Cherry Hills Country Club, where he was a long time member. He was a former member of Columbine and Castle Pines Country Clubs in Colorado, as well as of El Dorado and The Vintage Club in Palm Springs. In 1984 he was a member of the winning amateur team for the Bob Hope Desert Classic.
Jerry is preceded in death by his brother, John Moore Armstrong. He is survived by the following family members: his wife, Bonnie; his sister, Jane Dalton; his children, Bill Armstrong and Beth Carrick; his grandchildren, Calie McCamant, Lindsey Strawn, Cullen Carrick, Jack Armstrong, Chris Carrick, Leigh Young, and Courtney Carrick; and his great-grandson, Peter Armstrong.
A small memorial event will be held on Wednesday, February 3rd at Cherry Hills Country Club from 5 – 7 pm.
In lieu of flowers, a memorial contribution can be made in honor of Jerry to the Denver Area Council, Boy Scouts of America. You can either do this online, or by mailing a check to the Director of Development's attention: Michael Fifhause, 10455 West Sixth Avenue, Suite 100, Denver, CO 80215. For more information, please call 720.266.2147.
In Memory of:
Donor(s):
April 2016
Donald Lyman
Douglas Flynn
Donna Hardy
Barbara McNurlin
Norma Reynolds
Joan Lawson
Yvonne Tomlinson
David Roberts
March 2016
Jerry Armstrong
George F. Wood
Josephine Wilson
Paul Meeker and Debbie Doyle
Virginia New
Sharon Novacek
Ariel Pazos
February 2016
Jerry Armstrong
William S. Bergner
Jack and Carol Brown
GMT Exploration Company LLC
Gary Gunter
Paul and Sharon Hess
Maynard Holt
William Jackman
Kevin and Lyn McAuliffe
Katherine Milham
Munich Re Trading Company LLC
Mark and Nancy Palmer
Scott and Katie Shoelzel
Frank Seeton
George and Carol Solich
Deneen Stambaugh
Emily Summers
Clyde E. Thompson
Norman Funk
Debra Nelson
Lewis Vogler
Mr. and Mrs. Carson Cahill
James B. Wallace
Paul and Sharon Hess
Josephine Wilson
Frank J. Lindsey
January 2016
Jerry Armstrong
The Armstrong Crew
John Pruit
Norman Funk
Mr. and Mrs. William McAlaine
Jack and Sharon Yonkees