Eagle Scout Advancement
Since the 2016 version was released, Scouts should use the newer version of the Eagle Application. The National Office will only continue to accept the 2014 version for a limited time. While the Denver Area Council will try its best to accommodate the submission of prior editions of the Eagle Scout Application we cannot guarantee the form will be accepted by the National office. After June 1, 2016, the Denver Area Council will not certify nor accept any previous editions of this form. Download the 2017 Guide to Advancement here. Download the 2014 merit badge changes here.
If you have questions regarding BSA Advancement policies, please contact Andre Pauka, Council Advancement Committee Chairman or Kathy Craig, Council Advancement Committee Staff Advisor.
From Life Scout to Eagle Scout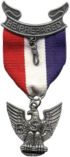 In order to advance to the rank of Eagle, a Life Scout must complete all seven requirements of the Eagle Scout rank as outlined in the Scout Handbook:
Be active in your unit;
Show Scout spirit;
Complete 21 merit badges;
Hold a position of responsibility in your unit for at least 6 months;
Plan, develop, and provide leadership to others in a service project;
Participate in a Scoutmaster conference; and
Pass the Board of Review.
The last two requirements are completed after the first five are done.
Eagle Project Overview. The Eagle Scout project requirement actually has several associated parts to complete concurrently and may take at least 6 months to complete.
Following these steps and the completion of the other requirements, a Scout will complete a Board of Review, then he is entitled to recognition for his efforts in a Court of Honor hosted by his unit.