Protecting our Youth
Our Ongoing Commitment to Keeping Scouts Safe
The safety and protection of children is the most important priority of the Boy Scouts of America (BSA) and the Denver Area Council.
BSA Youth Protection Mission Statement
True Youth Protection can be achieved only through the focused commitment of everyone in Scouting. It is the mission of Youth Protection volunteers and professionals to work within the BSA to maintain a culture of Youth Protection awareness and safety at the national, regional, area, council, district, and unit levels.
New 2020 Background Check Requirements
Youth Protection Training
Youth Protection training is required for all BSA registered volunteers and is a joining requirement. Youth Protection training must be taken every two years. If a volunteer's Youth Protection training record is not current at the time of recharter, the volunteer will not be re-registered.
Youth Protection training can be completed via MyScouting.org at https://www.scouting.org/training/youth-protection/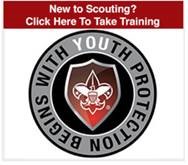 BSA Youth Protection Reporting Policy
The BSA's mandatory reporting policy requires that all persons involved in Scouting report to local authorities any good-faith suspicion or belief that any youth participant is being, or has been, physically or sexually abused. This policy empowers all in the Scouting community to recognize, respond, and report abuse.
In addition to the mandatory reporting policy that removes perpetrators from Scouting and reports them to law enforcement, the BSA has established a multi-layered process of safeguards, including the following, all of which help to act as barriers to abuse:
Ongoing mandatory youth-protection training for all volunteers, along with educational materials for parents and Scouts that is prominently featured in handbooks and integrated into our programs;
A formal leader selection process that includes criminal background checks and other screening efforts;
A leadership policy that always requires at least two youth-protection trained adults be present with youth, and prohibits one-on-one situations where adults would have any interactions alone with children – either in person, online, or via text;
A 24/7 Scouts First Helpline (1-844-SCOUTS1 or 1-844-726-8871) and email contact address to access counseling and help needed to report any suspected abuse or inappropriate behavior; and
The Volunteer Screening Database, a tool the Centers for Disease Control and Prevention (CDC) recommends for all youth-serving organizations, to prevent individuals that were removed from Scouting from reregistering.
Keeping Children Safe Nationwide
The BSA strongly supports the following efforts to help keep children safe nationwide, including:
Funding the CDC study to update the guidelines that all organizations should consider in determining how to keep children in their programs safe;
Establishing and funding a national system where volunteers can register and be cleared through a common screening process applicable to all states and organizations, with an affordable process for conducting background checks and periodically renewing the clearance to reduce the risk that potential abusers can gain access to children by moving across state lines or to other youth-serving organizations;
Enabling youth-serving organizations to share information about individuals who have been removed from their programs for alleged inappropriate conduct – even if the individuals have not been arrested or convicted – to keep potential abusers out of these organizations; and
Strengthening mandatory reporting laws and requiring that sex abuse offenders serve full sentences.