Camp Dietler
Peaceful Valley Scout Ranch
A Patrol Cooking Camp
Camp Dietler is Peaceful Valley's "patrol cooking camp." Here, troops will participate in a back-to-basics style of camping that gives Camp Dietler its bold and exciting character. Scouts will pitch their own tents, cook food as a patrol and learn how to work as a team to make their week successful. Camp Dietler will take your Scouts in and show them the true meaning of outdoor camping while preparing them to take on any challenge nature can throw their way.
Not sure your troop has enough experience for something like this? Don't worry; our staff is here to help! All activities are done under the watchful eye of our trained staff, who will be on hand all week to assist you and your Scouts. We also provide patrol boxes and cooking gear, so minimal equipment is needed on your part to have a great time at camp. Tents are not provided.
Daily Programs
Scouts will start their day preparing breakfast in the campsite and conducting a flag ceremony. From there, its off to merit badge sessions, and with over 20 different ones to pick from, the morning will be packed full of fun! Around midday Scouts take a quick break to prepare lunch, and then it is right back out for more merit badges!
As the afternoon starts winding down, Scouts will spend time as patrols working on pioneering projects or running an orienteering course. Evening is greeted with a wonderful dinner prepared by the Scouts, along with participate in various evening activities, ranging from scavenger hunts based upon Scouting skills to a camp-wide outpost, during which everyone sleeps out under the stars for a night at one of our themed sites.
White Water Rafting
Peaceful Valley Scout Ranch has partnered with one of Colorado's premier rafting companies, River Runners, to provide units or individuals attending Camp Cris Dobbins or Camp Dietler the opportunity to raft down the Arkansas River as part of their summer camp experience! This takes place on Friday, so Scouts don't have to worry about missing merit badge classes.
Peaceful Valley Adventure - Mission: Adventure
Mission: Adventure is an opportunity for older Scouts who have been to summer camp in previous years, and are looking for an even more hardcore summer camp experience. Scouts will work on intense backcountry skills in the areas of first aid, wilderness survival, fire safety, forestry, backpacking, cooking, orienteering, and more. Scouts from both Dietler and Dobbins will join together in this class to explore the far reaches of Peaceful Valley and experience all that the area has to offer, including a day trip to climb Pikes Peak.
For Those Still Young At Heart
Scouts should not be the only ones having fun at camp! Camp Dietler offers a wide variety of activities for adult leaders to participate in. Surf the web on our wireless high speed Internet, relax with a cup of coffee around the commissary, and participate in various training programs like Aquatics Supervision and Climb on Safely. You can also work on earning your Scoutmaster Challenge patch by completing a list of fun requirements designed to keep adults active throughout the week. This program is open to all adult leaders.
Facilities
Camp life is based around the Dietler Commissary. From here, troops pickup meals, gather for merit badges and sign up for outposts. Campsites come equipped with canvas tents and wooden platforms, and under staff supervision, Scouts arrange these into patrol campsites at the start of each week. Each campsite has its own latrine equipped with pit toilets, showers, and hand washing stations. Each patrol in your troop will be issued a patrol box at the start of the week, equipped with everything they will need to cook their meals.
Camp Dietler and Camp Dobbins share a heated pool, man-made lake, and brand new shooting facilities, to provide your Scouts with even more opportunities during their week at camp.
Adventure Activities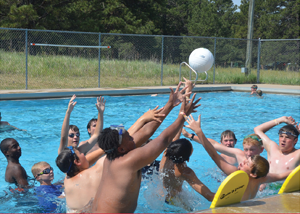 Swimming at Gates Aquatic Center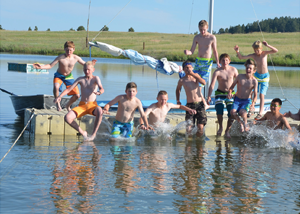 Silver Lake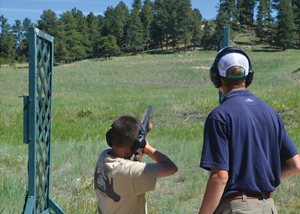 Olympic Shotgun Shooting Range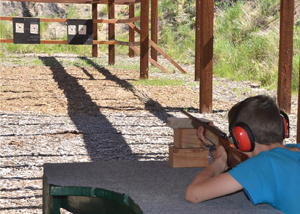 World Class Rifle Range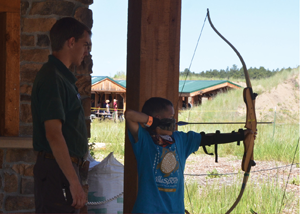 Sporting Archery Range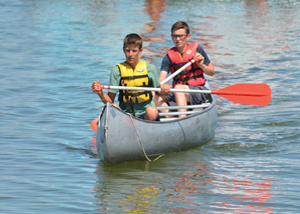 Aquatics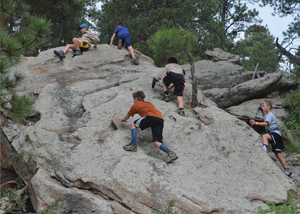 Natural Rock-Climbing Areas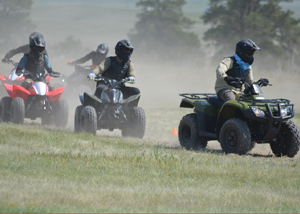 ATV Rider Safety Course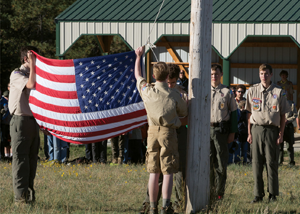 Flag Ceremony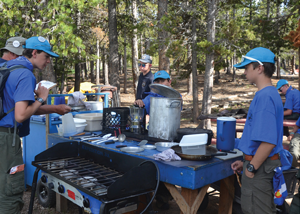 Cooking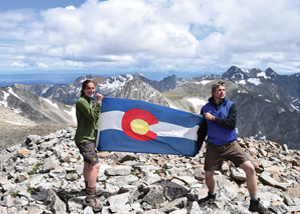 Climb 14ers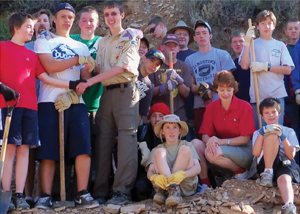 Explore Caves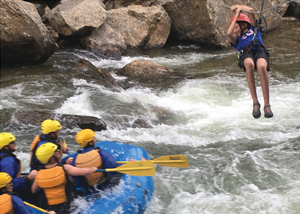 White Water Rafting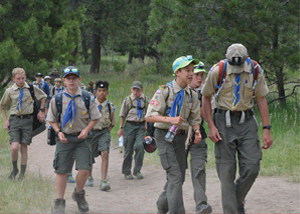 Hiking