Recruitment Resources
It is essential that all youth have the opportunity to join the fun of the Scouting program. It is our job to tell the "Scouting story" and encourage prospective new families to experience all that Scouting has to offer. Please utilize the Explore Scouting recruitment campaign resources to help promote your Scouting unit.
---
New Recruitment Booth
We have a new resource for units, the Denver Area Council Recruitment Booth.
Register here to use this booth today.
---
Sign Up for Scouting Night Materials
A great marketing campaign combines powerful imagery and a consistent message. Order your free Recruitment marketing materials today including fliers, posters, buddy cards, and yard signs. Select your pack's District to order your materials online. A minimum of 48 business hours are needed to get materials printed and ready for you. Remember - neatness counts. What you type in is what you will receive.
Not sure what District you're in? View our District map here.
Additional resources are available in the Marketing and Membership Hub.
---
2019 Membership Plans
Cub Scouts Dream Big
Reaching every boy with the message of Scouting requires informing and inspiring people to consider the value of Scouting to themselves and the community. One inspiring message to schools, parents, and boys can make a difference in peoples lives. Inspire today!
---

Populate your BeAScout Pin
The National Service Center of the BSA deployed digital Online registration tools for 24 Beta Councils this month (August). Denver Area Council is pleased to be part of this deployment. The following are highlights of the system.
Youth and Adult applications to join Scouting are now digital and Online. Applications can be completed in digital format using a computer or portable device. Approvals of applications by the Unit Key 3 are accomplished digitally and payments can be made via credit card. Paper applications continue to be available, with payments made with cash, paper check or Unit account.
Units that decide to participate in the Online Registration process must complete the Preparation Checklist at http://www.scouting.org/onlineregistration.aspx.
The Scouting.org/onlineregistration website provides step-by-step guidance for Unit leaders. For online applications here are the contacts for the council:
Denver Area Council Online Registration Champion: Scott Johnson
Denver Area Council Online Registration Champion: Mark Zoller
Online Registratio Introduction
---
New Parent Envelope Contents
(Given to new Scouting families at School Night)
---
New Den Leader Resources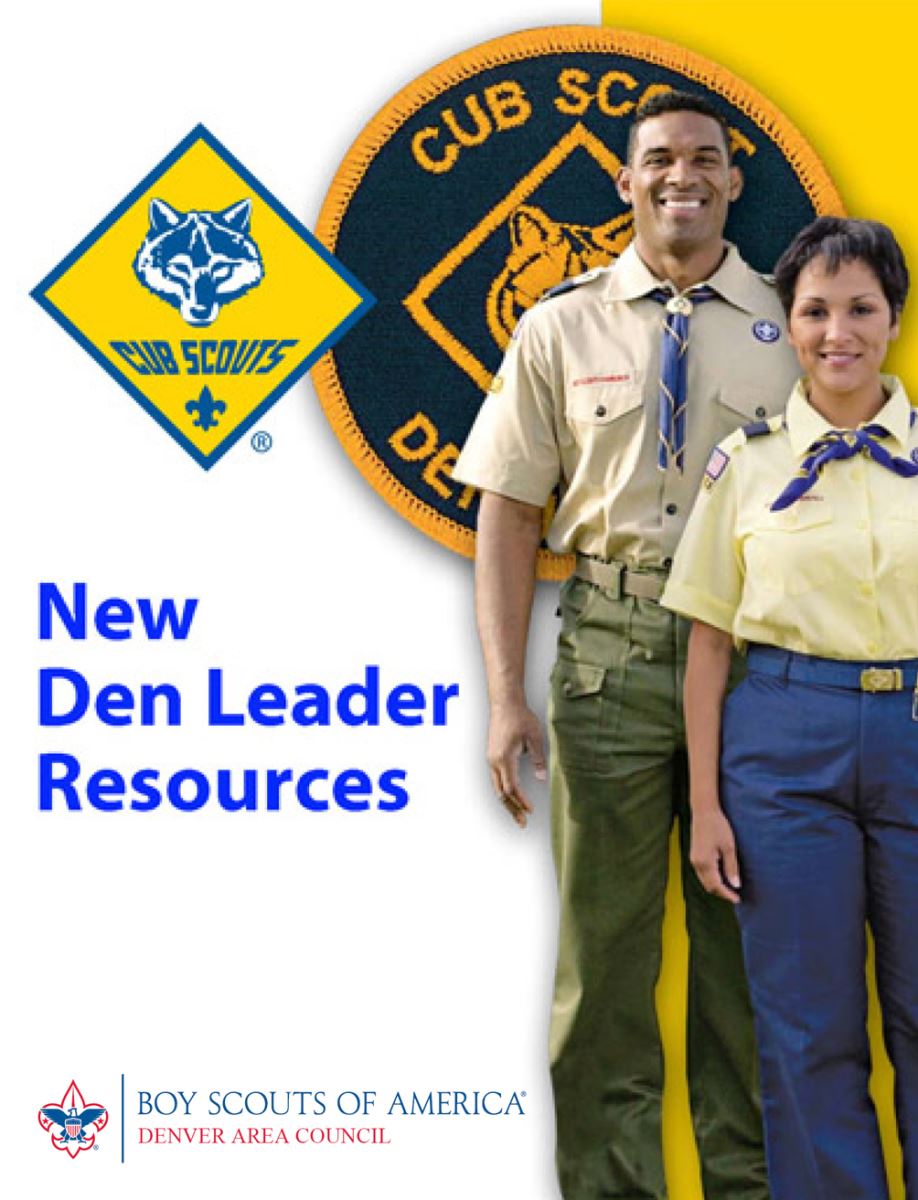 It takes a countless number of individuals to make Scouting happen in the Denver Council and it is crucial that our new leaders have the tools needed to implement a quality program. Please encourage your new leaders to utilize the resources below.
Additional Resources — Den Leaders / Cubmasters / Committee