12th Annual "Drive a Scout to Camp" Golf Classic
Monday, September 9, 2019
Sanctuary Golf Course
7549 Daniels Park Road, Sedalia CO 80135
The 12th Annual "Drive a Scout to Camp" Golf Classic will be held on September 9, 2019, from 9 a.m. to 6 p.m.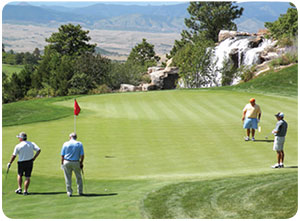 The Denver Area Council is excited to hold our annual Golf Classic at the exclusive Sanctuary Golf Course.
The Sanctuary Golf Course is the brainchild of RE/MAX International Co-Founder Dave Liniger. Located in Sedalia, just south of Denver it is nestled in the foothills of the Rockies and boasts a beautifully preserved ecosystem as well as an 18-hole, private course. It serves as a refuge for wildlife, native plants, and also golfers looking for a peaceful game of golf.
Sanctuary was conceived as a golf experience that would gracefully balance exclusivity with accessibility. With its reputation as one of the most exclusive courses in the country it has a commitment to preserving the natural terrain and wildlife that abound. That is why the Sanctuary limits the golf course to only 9,000 rounds per year and it is by invite only. Linking tournaments and other events to the support of charitable organizations devoted to the arts, children, health care, and crisis management.
Directions to the Sanctuary Golf Course.
Download the "Drive a Scout to Camp" Golf Classic brochure here.
Funds raised from the "Drive a Scout to Camp" Golf Classic will help offset costs for youth to attend camp and provide camperships for those families in need.
The Denver Area Council currently serves more than 34,000 youth and families, with Scouting programs throughout the Denver Metro and Western Colorado service areas.
Schedule of Events
9 a.m. – Registration Check-In Opens
9 a.m. – Titleist Pro Shop
9:30 a.m. – Brunch
10:45 a.m. – Announcements
11:05 a.m. – Shotgun Start
4:30 p.m. – Dinner, Drinks & Awards
6 p.m. – Event Concludes
The 2019 Golf Classic Committee: Bill Graebel, John Zimmerman, Jeffery Burney, Harrison Dunn, Pat Griffith, Russ Griffith, Ryan McNeil, Todd Munson, Michael Shaw, Brad Siler, Gene Sillivan, Andy Van Gilder, and Jake Wuest.
For questions please contact: Michael Vangelov or 720.266.2151.